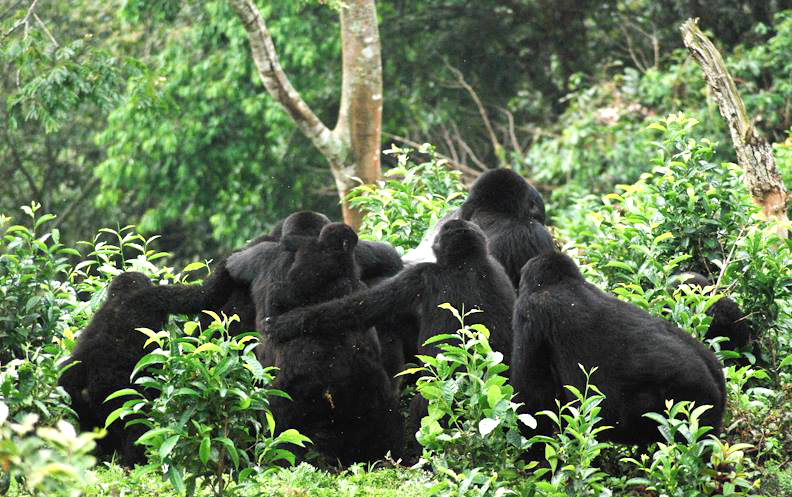 Uganda's fore most tourist attraction, and indeed one of the world's most remarkable wild life encounters, is tracking the rare mountain gorilla in the remote forests of south – western Uganda. These magnificent animals which are found only in the forests of Bwindi impenetrable and the virunga volcanoes, number less than 800, over half of them in Uganda.
THE PRIVILEGE OF GORILLA TREKKING
Tracking mountain gorillas is a very exclusive activity. To minimize disturbance, only eight people can track each habituated gorilla group each day, while time with the gorillas is strictly limited to one hour. As wildlife viewing goes, it is difficult to conceive how or where in the world a more rewarding 60 minutes could be spent. Tracking gorillas offers a privilege of encountering one of world's rarest animals in its natural habitat and by doing so , helping fund its continued survival. Though gorillas are undeniably intelligent and impressive creatures to watch – a silver back can weigh over 200kg (450 lb)- the greatest reward from the encounter are more cryptic. Gorillas are one of our closest relatives and few observers emerge from the magic hour without feeling an unfathomable connection, which many find profoundly moving. And when all is done, there remains a well deserved sense of achievement at the culmination of the long journey by air, by vehicle and on foot to the home of the mountain gorillas.
About Mountain Gorillas
Mountain gorillas are a rare species found only in three countries worldwide. There are two known populations of the mountain gorillas; one living in Bwindi Impenetrable Forest and another living in  the greater Virunga that comprise of Mgahinga (Uganda), Volcanoes National Park (the Republic of Rwanda) and Virunga National Park (the Democratic republic of Congo). Gorillas are fabulous fan to watch when playing in their natural habitat tracking the mountain gorillas in Uganda can be done in two national parks. These include Bwindi impenetrable national park and Mgahinga gorilla national park.
Where to Go Gorilla Trekking
Bwindi Impenetrable National Park
Bwindi Forest is located in the south-western part of Uganda on the edge of the rift valley about 530 km from Kampala Uganda's capital passing via Kabale, Kanungu to Buhoma about 7-9 hours' drive on a clear weather condition up to the park. Bwindi means darkness in the local language in reference to the dense rainforest which hosts more than 400 different plant species. The park is said to host about 380 mountain gorillas, almost a half in the wild today. Bwindi is known as Uganda most visited national parks as very many visitors worldwide come to Uganda purposely to track gorillas. The park also host to more than 350 bird species and more than 200 butterfly species, about 324 species of trees, ten of which are unique to Bwindi forest. The Bwindi forest is said to be more than 25,000 years old. Gorilla tracking is the major activity done at the park and the park has over 10 habituated gorilla groups and in each group only 8 members are allowed to track. And in order to be registered among the 8 members to track, you must possess a gorilla permit which is at a fee of 600 USD per person per tracking.However visitors can also enjoy a cultural experience visiting the neighboring Bakiga and Batwa Pygmies through guided village walks.
Mgahinga Gorilla National Park
Mgahinga Park is situated in Kisoro district via kabale, south western Uganda, 510kms about 8 hours. The park sits at an altitude of between 2,227m and 4,127m. The park is one of Uganda new created national parks' being was established in 1991 with in 1991 with the main purpose of protecting the mountain gorillas. The park is also an important habitat of the golden monkeys which are also regarded as endangered species. Mgahinga's most striking land features are its three conical, extinct volcanoes that are part of the spectacular Virunga Massif, a mountain range that straddles the borders of Rwanda to the south, Uganda to the north and the eastern part of Democratic Republic of Congo to the west. The area around the park is a famous place for huge cultural significance, especially for the indigenous BatwaPygmies. Once you meet these people they will entertain you through their cultural dance and music and they will also explain to you how they have managed to live in the area for over 5000 years. measure 33.7 square kilometers, the park is the smallest national parks in Uganda in size. Mgahinga is famous for gorilla safaris and the park has 1 gorilla group called the Nyakagezi gorillas group, although this group tend to migrate to the neighboring countries that's Rwanda and the democratic republic of Congo as they their looking for adventure, so before booking with this group its always advised to consult with your travel company whether the group is available before booking.